Meeting Room Collaboration

Wavex
Wavex Touch is an audio visual technology organization with a network of leading technology partners, suppliers, manufacturers and distributors worldwide. The company offers a heightened and smart technology driven communications interface to its customers through its range of audio visual and touch interactive products. These products cater to the specific communication requirements that are constantly emerging in diverse sectors including Education, Corporate and Government as well as specific community and mass driven applications in public areas such as community centres, airports and malls.

Magnum
Magnum's Connectivity solutions combine AV systems with architectural and interior design. A wide range of different components. Hidden PopUp Boxes/Cable cubbies include table-top connectivity in a varied assortment of sizes and styles that exhibits both versatility and flexibility, while respecting the given space allotment.

Goget
Goget AB (Sweden) is a leading producer of meeting room digital signage systems. Our products can be used to quickly and effectively book meeting rooms via the email calendar or the convenient touch enabled displays outside each room. The Room Sync series is GoGets's range of professional meeting room display systems. Manage room bookings via e.g. Outlook or the sleek touch-screens outside each meeting room, and present a wide range of customized information including availability, organizer, title and upcoming events.

Flipbox
Many software solutions for interactive displays and whiteboards that are on the market today were designed for elementary education purposes and do not entirely correspond to the needs of modern businesses and higher education establishments. That is the reason why a majority of existing interactive display and whiteboard solutions have just basic utilities and capabilities. Flipbox Software Suite can bring this expensive hardware back to life. And once you have PC and touchscreen you don't have to buy any additional hardware – simply install Flipbox.

MTC
Joyful and creative learning is the basis for successful educational program at all levels. MTC solutions have particularly significant  implications for the education sector as they contribute to collaborative learning in the classroom. The collaboration is achieved by Touch Interactive & Wireless presentation gateway Systems; a technology, which has the fastest adoption rate in more than two decades, the adoption is also across all the ages. MTC offerings are for a better teacher and student relation, as it helps collaboration, and therefore better learning. Every business can benefit from collaboration – when people share ideas and work together, it's a chance to improve productivity and results. MTC's solutions give you those opportunities by enabling you to work with information in more meaningful, effective ways.

Atlas Sound
AtlasIED is the combination of two widely recognized leaders in the commercial audio world, Atlas Sound and Innovative Electronic Designs (IED). Both companies have been collaborating for decades and have grown to be two of the most successful commercial audio manufacturers. Atlas Sound has become the largest commercial audio provider spanning small businesses to the largest enterprises while Innovative Electronic Designs (IED) has been known as the leader in mass notification systems in airports, corporations, and government institutions. For 80+ years, both companies have been installed in more than one million businesses. In 2009, Atlas Sound and IED became sister companies operating independently with combined oversight at the executive management level. As technologies continued to integrate together, both organizations united forces. In 2015, Atlas Sound and IED combined our sales, marketing, and support teams. Today, AtlasIED provides better service to you and the various market segments that we serve.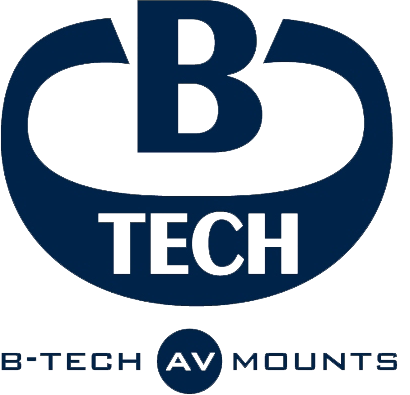 Btech
The B-Tech range of AV mounts and supports are of class leading strength and durability. Practical designs with unique B-Tech touches ensure a user friendly, straightforward installation every time. All product ranges are designed to meet the very strict industry safety standards and many products are tested and approved by bodies such as GS/TUV and UL. B-Tech also holds membership to many industry organisations such as Cedia and InfoComm. B-Tech backs its ever expanding range of mounts and supports with a no-quibble ten year lifetime guarantee against defects and workmanship.

T1V
T1V is a visual collaboration company specializing in hybrid collaboration software for enterprise and education markets. The company's collaboration platform includes ThinkHub® collaboration for global teams, T1V Hub™ wireless screen sharing, and the T1V app – all working cohesively to bring teams together for seamless, intuitive working sessions.
T1V's suite of collaboration software transforms the way people meet – making meetings a place where teams can collaborate anytime, from anywhere.
T1V ThinkHub Education™ technology is designed to support active learning across a variety of teaching and learning styles, from traditional lecture to team-based teaching and learning. The solution also connects satellite classrooms, campuses, and remote participants to improve access for students and teachers.
T1V Story™ enables brands to visually tell their story in an engaging, interactive format. Story couples the visual power of mixed media with the brand's unique look and feel to create a totally branded, one-of-a-kind experience.
All T1V solutions are Built for BYOD™ (bring your own device) to support the many devices, programs, and platforms of today's hybrid meeting and learning environments. T1V is a leading innovator in large-scale, interactive software technology, with seven issued patents in collaboration and active learning software.