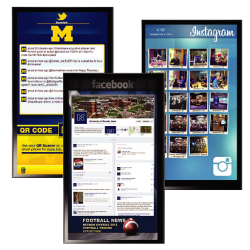 Digital Signage Software
With our enterprise digital signage products, you can reach everyone in your workforce – as well as students, visitors and guests – to encourage collaboration, promote safety, recognize achievement and motivate action.
This is increasingly important as we live in a world with four, unique generations in the workplace. Each of the four communicate differently. For Veterans, it's about keeping people together and dealing with emergencies. Baby Boomers feel it's important to express feelings. Generation Xers concentrate on building relationships, developing ideas and giving and receiving honest feedback. Millennials are more focused on making multiple connections with affinity groups and receiving feedback on performance – provided it's done gently.
You can engage all four generations with an enterprise digital signage strategy.