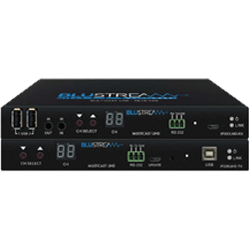 Video over IP
Multicast UHD from Blustream delivers virtually latency free distribution of HDMI video over a 1Gb Network switch. Using visually
lossless compression technology, Multicast delivers HDMI, IR, RS-232, USB / KVM, and CEC up to lengths of 100m over a single CAT
cable. The beauty of Multicast is its flexibility and ease of installation. The industry has been requesting a video over IP solution
that can be installed in minutes and without the need for any networking qualifications. Multicast UHD has been developed in line
with these objectives and is delivering a new era in advanced video distribution.